Just Released: Pioneer Pump's Customer Value Featured In Recent Industry Article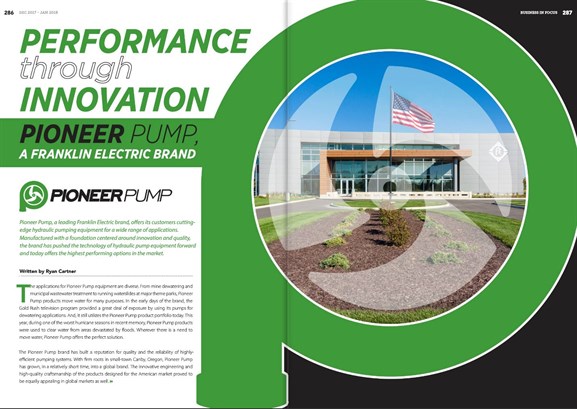 Business In Focus, an online publication that reaches more than 468,000 business leaders throughout North America, recently did a feature article on the history of the Pioneer Pump brand and the value it provides to customers. Below is the content from the article, along with a direct link to the entire issue.
Performance Through Innovation: Pioneer Pump, A Franklin Electric Brand
By Ryan Cartner, Business In Focus
Pioneer Pump, a leading Franklin Electric brand, offers its customers cutting-edge hydraulic pumping equipment for a wide range of applications. Manufactured with a foundation centered around innovation and quality, the brand has pushed the technology of hydraulic pump equipment forward and today offers the highest performing options in the market.
The applications for Pioneer Pump equipment are diverse. From mine dewatering and municipal wastewater treatment to running waterslides at major theme parks, Pioneer Pump products move water for many purposes. In the early days of the brand, the Gold Rush television program provided a great deal of exposure by using its pumps for dewatering applications. And, it still utilizes the Pioneer Pump product portfolio today. This year, during one of the worst hurricane seasons in recent memory, Pioneer Pump products were used to clear water from areas devastated by floods. Wherever there is a need to move water, Pioneer Pump offers the perfect solution.
The Pioneer Pump brand has built a reputation for quality and the reliability of highly-efficient pumping systems. With firm roots in small-town Canby, Oregon, Pioneer Pump has grown, in a relatively short time, into a global brand. The innovative engineering and high-quality craftsmanship of the products designed for the American market proved to be equally appealing in global markets as well.
It was originally created in 1998 by Jerry Turner and three co-founders, who are all industry experts with a combined sixty-five years of experience in the hydraulic pumps business. Each member of the team specialized in a different area, giving the brand a strong foundation to build on. There was a hydraulic engineer, a sales expert, and a purchaser with key contacts that would help Pioneer Pump gain an early foothold in the marketplace.
The brand made inroads with some impactful, successful companies early on – some of most notable being a contract secured with Service Pump & Compressor Inc. and another with National Pump & Compressor, which was eventually acquired by United Rentals, now the largest equipment rental company in the world. Having created these partnerships is a testament to the brand's ability to meet the needs of industry leaders.
Many Pioneer Pump customers are rental companies that own and rent out large fleets of equipment. They choose Pioneer Pump because its products operate so efficiently and reliably that fleet companies quickly see the return on their investment. This allowed the brand to expand its distribution to go beyond fleet customers into many other sectors, including municipal wastewater treatment, heavy industrial, food processing, rare earth mineral mining, agriculture, steel, pulp and paper, and many more.
By 2004, its rising success got the attention of Franklin Electric, which was prompted to make a minority investment in it. Franklin Electric saw great potential in this partnership and in 2014, Pioneer Pump became a wholly-owned subsidiary. Franklin Electric decided to retain the Pioneer Pump brand identity, and today, it operates as Pioneer Pump, a Franklin Electric brand.
Fifteen years ago, Pioneer Pump began to expand by starting an operation that packaged and sold pumps in the United Kingdom. Soon after that, a similar operation was started in South Africa, and in 2013, another was opened in Australia. In total, the brand is manufactured in four facilities and three rental depots across the globe. This effort to expand its global footprint has been highly successful, and now a significant portion of Pioneer Pump revenue comes from outside the continental United States. 
"When I was looking for a job eight years ago," says Dan Kaplan, operations manager at Pioneer Pump, "it was important to me to find a company that was family oriented and that created a product that you could tangibly feel pride in the workmanship." For Kaplan, the Pioneer Pump brand exemplified these qualities.
The employees are a tight-knit group of hard-working people who care deeply about the quality of the product they create, and who are all dedicated to the brand's success. To encourage this culture of collaboration, Pioneer Pump is structured to be flat. The leadership makes every effort to be accessible, and everyone is made aware of nearly everything that happens within Franklin Electric related to the brand. It is a very open system, and that fosters integrity, shared responsibility, and company-wide pride in results. 
"Anytime there's an acquisition, there's some anxiety," says Kaplan. "What I quickly learned was that Franklin Electric and Pioneer Pump had a lot in common in terms of their work culture. People are empowered to make decisions; they're rewarded when they come to the table with solutions." We have found much success in the absence of the typical micromanaging leadership that is all too common in markets as competitive as this.
One of the key ways that Pioneer Pump sets itself apart from its competition is by offering a complete package approach. Many competitors provide only the pump end, which can only operate when it is connected to a driver that can turn the shaft that powers the hydraulic mechanism. Those who procure pumps will buy the pump and then have to buy a driver and pay someone to package the system. Pioneer offers complete diesel engine and electric motor packages, eliminating the need for customers to deal with a complex supply chain of multiple companies to get equipment working. They can provide Pioneer Pump a set of specifications, and it will engineer a full solution customized to suit their unique requirements.
However, it is truly the quality of the product that has brought the Pioneer Pump brand success. The relationship with Franklin Electric gives it access to high-quality variable-frequency drives and control panels, making everything from the motor or engine to the pump end and the control system available from one entity.
Pioneer Pump products are globally recognized for superior hydraulics. One of the largest pumps offered is used in the municipal sewage bypass market and can pump millions of gallons of sewage a day. Pioneer Pump's hydraulic engineering team has designed a fourteen-inch pump that outperforms many eighteen-inch pumps, and that is just one example of the innovation it brings to the marketplace.
These fourteen-inch pump ends are often branded by resellers as eighteen-inch pump ends because they operate with the same power as the eighteen-inch variety, and competing fourteen-inch pumps generally cannot manage the load required in the kind of application for which these pumps are designed. These efficiency gains help to reduce emissions and save customers fuel and energy costs.
From its genesis as a supplier to fleet rental outfits, Pioneer Pump has expanded into a variety of marketplaces with efficient and innovative technologies. With origins in the rental market, the brand excels at offering rugged equipment capable of withstanding less than ideal conditions in the field. With this, it has been able to penetrate challenging industries where pumps designed for stationary purposes do not fit. The superior hydraulic performance allows Pioneer Pump customers to operate more efficiently, with lower emissions, and at a lower cost.
"When we have operational meetings," says Kaplan, "we work hard to not lose sight of the fact that we're all pulling on the same rope, and at the end of that rope is a customer who is depending on us."
Click here to view the article in the December/January issue of Business In Focus.