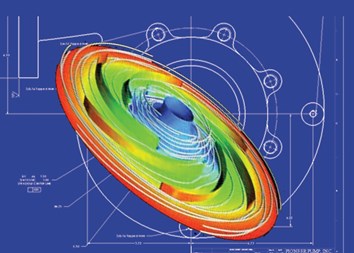 The Engineering Leadership of Pioneer Pump
Pioneer Pump was founded on the idea that pumps should be better. Thanks to our engineering leadership, all Pioneer pumps are built using an innovative impeller design that's now the industry's best. It moves more pumpage, more efficiently, size-for-size. You get extreme performance while using less energy, giving you the best lifetime value in an environmentally and budget-conscious world. The large eye area and low NPSHr provide better suction lift and vapor handling. And the enclosed design handles solids more efficiently for improved performance, less maintenance and longer life, compared to traditional impellers.
Another patented innovation is the Pioneer Prime's stainless steel air separation valve, which allows for quick priming with no product carryover. Our pumps are also designed for easy maintenance, with back-pull configurations, replaceable wear rings, wear plates, suction cover and removable inspection covers.

But we're not stopping there. We constantly pursue new ways to improve pump hydraulics, efficiency and reliability. Because performance through innovation means we never stop trying to be even better.