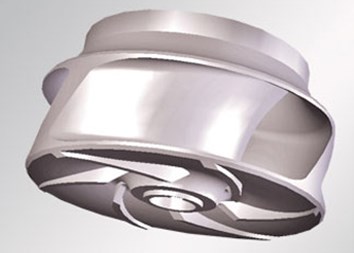 A Focus on Quality at Pioneer Pump
Pioneer pumps are built to be around long after we're not. We lead the industry with our use of the highest quality materials as standard. Like ductile iron volutes, CA6NM stainless steel impellers and 17-4 PH stainless steel shafts. These advanced materials ensure the long life and reliability necessary for the demanding requirements of industrial pumping. Large bearings, oversized shafts and bearing isolators also work to extend pump life, while tungsten carbide vs. silicon carbide seal faces with Viton® elastomers prevent leakage and damage for less environmental impact.
Leading-edge materials are just the beginning of Pioneer Pump's innovation. All individual parts used, as well as the completed pumps, undergo rigorous in-house testing to meet or exceed Hydraulic Institute and ANSI standards. But our commitment to quality isn't confined to the pumps we make. It extends to every aspect of our business. Beginning with our ordering process all the way through delivery, we have checks in place to make sure every step of the process adheres to our high standards.

We're committed to continuous quality control at every step. When you buy a Pioneer pump, you're not just getting a pump. You're getting peace of mind.