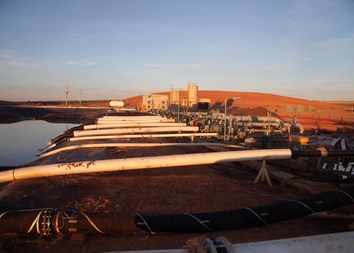 Mining Pumps
It's tough out there – high environmental pressures, high heat and high demands. With Pioneer Pump, you get a partner that's built to keep you up and running through every challenge with the highest performing mining pump product line available. Our comprehensive line includes centrifugal mining pumps for high-flow / high-pressure dewatering, and process applications. Plus, Pioneer high-pressure pumps are available in a variety of mounting configurations.
Superior materials for longer life
Our stainless-steel impellers are designed to withstand the abrasive and corrosive effects of slurry or wastewater. Heavy-duty ductile iron construction ensures a long pump life.
Extreme performance with low NPSHr
Heavy-duty, high-efficiency pumps with large impeller eye areas provide some of the lowest NPSHr in the mining pump industry.
Continuous unattended priming
Pioneer Prime, our vacuum-assisted priming system, offers high flow of up to 44,000 gpm (10,000 m3/h) and heads to 700+ feet (210 m) with run-dry capability, providing the highest outputs and fastest priming of any company in the self-priming pump market.
Environmentally friendly
Our mechanical seal construction features tungsten carbide seal faces, Viton® elastomers and stainless-steel hardware for run-dry capability and no product leakage or spillover. Fully contained pump packages meet noise and containment regulations.
| | | | |
| --- | --- | --- | --- |
| Pump Series | Head Range | Flow Range | Size Range |
| Vacuum-Assisted Priming | Up to 700 feet / 210 meters | 20—44,000 USgpm / 4—10000 m3/h | 1.5—30 in / 40—760 mm |
| Standard Centrifugal | Up to 700 feet / 210 meters | 20—44,000 USgpm / 4—10000 m3/h | 1.5—30 in / 40—760 mm |
| Self-Priming | Up to 200 feet / 60 meters | 20—3,500 USgpm / 4—795 m3/h | 1.5—10 in / 40—250 mm |