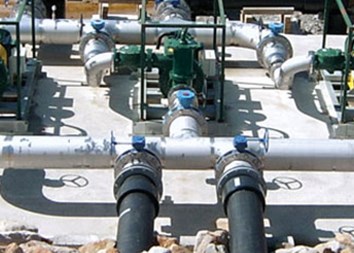 Oil and Gas Pumps
Your 24/7 operations go through it all: from extreme temperature changes to high dust, dirt and debris conditions. Pioneer Pumps are built to take the abuse – and keep you running smoothly and safely. Ournline of centrifugal pumps is designed to handle every challenge you face, from drilling mud to oil and mud transfer to frac-feed and more.
Exceptional reliability
Oversized shafts and bearings, along with standard cassette seals, provide long-lasting reliability in demanding conditions.

Heavy-duty modular construction for the industrial market
Ductile iron volutes and hardened stainless-steel impellers are designed for long life even when pumping abrasive liquids. Interchangeable parts for many models mean you can save money by stocking less inventory.
Extreme performance with low NPSHr
Heavy-duty, high-efficiency pumps with large impeller eye areas provide some of the lowest NPSHr in the oil and gas pump industry.
Rapid unattended priming and repriming
Our UltraPrime™ system provides high-capacity, vacuum-assisted dry priming that's up to 50 percent faster for both solids and clear liquids handling.
Environmentally friendly
Our mechanical seal construction features tungsten carbide seal faces, Viton® elastomers and stainless-steel hardware for run-dry capability and no product leakage or spillover.
| | | | |
| --- | --- | --- | --- |
| Pump Series | Head Range | Flow Range | Size Range |
| Vacuum-Assisted Priming | Up to 700 feet / 210 meters | 20–44,000 USgpm / 4–10000 m3/h | 1.5–30 in / 40–760 mm |
| Standard Centrifugal | Up to 700 feet / 210 meters | 20–44,000 USgpm / 4–10000 m3/h | 1.5–30 in / 40–760 mm |
| Self-Priming | Up to 200 feet / 60 meters | 20—3,500 USgpm / 4—795 m3/h | 1.5—10 in / 40—250 mm |