Latest News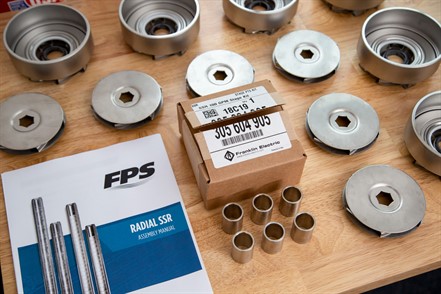 Nothing strikes fear in the hearts of a pump system owner quite like the thought of an unexpected shutdown,and for good reason. Downtime is lost revenue. If you're not up and running, you're not producing, your team is idle and you're losing time and progress. Pump failures can cause a snowball effect of issues for an operation – and determining the root cause of the problem becomes mission-critical.  
There's never an opportune time for a part to fail, but there are steps you can take to make the repair process easier and faster. Consider these tips to help you plan ahead. With a little work now, you can recover from system emergencies and unexpected shutdownsfaster – and possibly avoid failures in the future. 
As featured in Pumps & Systems magazine article When Downtime is Unavoidable, Keep It to a Minimum, learn how to overcome any emergency repair situation with manufacturers recommendations from Franklin Electric's Aftermarket Inside Sales Manager Jennifer Newsome.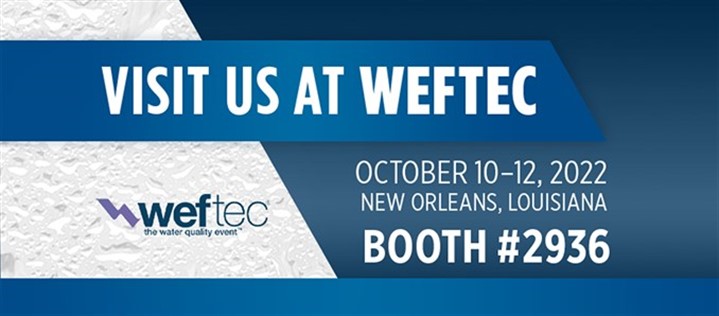 Franklin Electric is excited to reconnect with industry professionals at the upcoming WEFTEC trade show. Join us in booth #2936 to explore our latest water system solutions designed to overcome tomorrow's biggest challenges — and to learn more about our product offering, including:
Surface Pumping Systems: Leading-edge hydraulic engineering makes Pioneer Pump® centrifugal pumps the highest performing pumps on the market. Our brand-new Pioneer ElectricPAK will be in our booth with experts onsite to discuss how this electric-driven package is engineered from the ground up to offer a fully streamlined experience for owners and operators.
Wastewater Pumping Systems: Franklin Electric's FPS brand offers a range of submersible wastewater pumps and packages that are engineered for performance and offer a reliable solution for municipal and industrial wastewater applications. Visit our booth to see our IGP Series grinder pump in action with live demos daily.
Pressure Boosting Systems: Selecting the right system for your application is critical—and determining what will deliver the "right" balance of benefits for a user's needs often goes beyond common specs like flow rate and discharge pressure. Our on-site experts are ready to help you size, select and configure the right pressure boosting system for your application.
Vertical Pumping Systems: Ready to maximize the efficiency of your pumping operations? Learn more about our latest high efficiency water system solutions powered by permanent magnet motor technology. Our booth will also feature a selection of cast iron and stainless submersible turbines, alongside our extensive offering of vertical lineshaft turbines that help you cover almost any pumping application.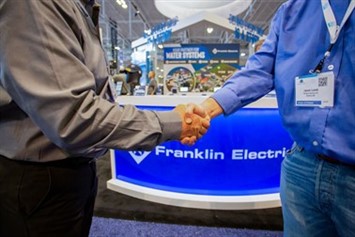 Franklin Electric's Discount Code: 
If you're a water or wastewater professional, we want to see you at WEFTEC! Our customers are eligible to receive complimentary expo-only passes by using code EXGU10478 when checking out on the WEFTEC registration page.
To meet with us in the booth, please contact your Franklin Electric representative. See you in New Orleans!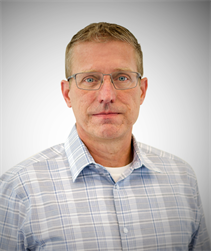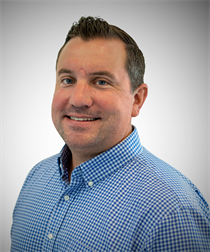 Franklin Electric is pleased to welcome two new team members to its growing Industrial & Engineered Systems business unit. Matt Murray joins the company as Senior Business Unit Manager for Industrial Distribution and Mike Smith joins as Senior Business Unit Manager for Fleet.
In their new roles, Murray and Smith will set the strategic vision for their segments, leading all commercial activities and supporting the needs and growth of Franklin Electric's customers.
Murray has been involved in the pumping industry since 2007, having spent considerable time working with paper and pulp manufacturers on industrial process needs and improvements. Smith is a managerial professional with over 30 years of experience in the engineered rotating equipment industry. He has worked within the engineering, sales and operations sides of the business and has managed teams across a variety of projects and markets.
"Both Mike and Matt bring strategic experience, leadership skills and a collective passion for helping our customers drive business growth," said Travis Bradley, Senior Business Unit Director of Industrial & Engineered Systems. "Their market knowledge and extensive experience in our industry will be invaluable to us and to our customers."
Franklin Electric is pleased to welcome Kyle
Carron to its Industrial & Engineered Systems business unit. In his new role as business unit sales manager, Kyle will be responsible for developing new fleet rental accounts and managing existing key customer relationships.
Carron brings eight years of experience working in the pump and rental industries to Franklin Electric. In his previous position as fluid solutions outside sales rep for United Rentals, he worked to size, rent and source equipment related to all aspects of water storage and transfer needs, including pumps, hoses, pipes, fittings and filtration devices. He also partnered directly with the largest accounts in the Colorado and Wyoming territory to ensure continued and successful business relationships.
"Kyle's experience will be a tremendous asset to our customers. He truly understands the rental and fleet markets from all sides of the business, bringing an important point-of-view to our team. We're looking forward to working alongside him to execute our group's strategic initiatives," said Travis Bradley, senior business unit director of Industrial & Engineered Systems.
Carron is a veteran of the U.S. Marine Corps, having served multiple tours in Afghanistan during Operation Enduring Freedom. He is also completing the Project Management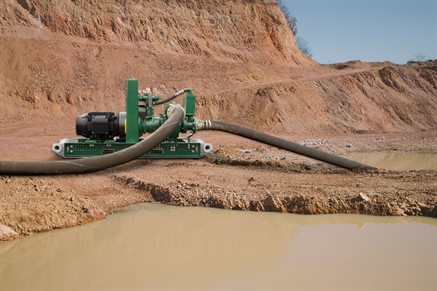 Pump packages that are used for dewatering and bypass purposes often take a beating, from operation to transportation to a jobsite in the first place. At a time when labor costs are on the rise and raw materials are scare, durability and low maintenance operation have never been more important. Just as important is ensuring the pumps and motors operate at optimum efficiency. These factors have raised concerns over pump vibration and the resulting problems it can cause. 
As featured in Pumps & Systems magazine article Why Permanent Alignment Is Important in Electric-Driven Pump Packages, learn how a rigid motor stool design permanently aligns the pump and motor, offering cost and time savings from Franklin Electric Global Product Management Director RJ Gates, Business Development Manger Toby Wilson and Marketing Strategist Melissa Wright. 
In any industrial processing situation, a dependable pumping system that is designed around a facility's unique application needs is essential for optimum productivity. Pumps are an integral part of any facility's overall performance and output; reliability, low maintenance and steady operation are crucial. At a time when labor costs are on the rise and raw materials are scarce, these factors have never been more important. Just as important is assuring that the pumps and motors operate at optimum efficiency. These needs are driving electric packages towards a growing trend in manufacturing: modularization.
As featured in Processing Magazine's article Alleviating Supply Challenges: The Benefits of Modular Design in Electric Pump Packages, learn how the modularization of electric pump packages can streamline how industrial processing facilities select and procure pumping systems from Franklin Electric Global Product Management Director RJ Gates and Marketing Strategist Melissa Wright.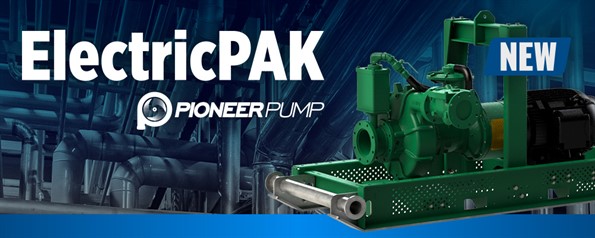 Pioneer Pump® a brand of Franklin Electric, announces the launch of the ElectricPAK™, a modular offering of electric-driven pump packages that helps users get a pump and motor configuration onsite more quickly and efficiently than custom-built units.
The new line of pump packages has been engineered from the ground up to offer a fully streamlined experience for both owners and operators. Each configured assembly includes a high-performance pump and electric motor that provides better flow, higher head and greater efficiency. The robust design also features a rigid, motor stool that keeps the pump and motor permanently aligned. This unique feature eliminates the need for time-consuming alignment work or special tools upon delivery or when the unit is moved. This modular system can also be disassembled quickly and simply, for reduced service and maintenance hours.
The ElectricPAK's modular system, combined with an extensive range of motor choices, allows users to select the most efficient pump based on the duty point. Users can also choose from a stationary base or drag skid. Helping them make their selection is Franklin Electric's proprietary FE Select online specification tool. It allows users to configure and quote a complete ElectricPAK that meets their application needs, anytime and from any web-enabled device. With 24/7 online and mobile-friendly availability, FE Select instantly helps formalize deliverables with printable and downloadable quotes: no waiting for a callback.
To learn more about Pioneer Pump ElectricPAK or to start configuring your package on FE Select, visit our product page or contact your Franklin Electric representative.
Whatever the weather – from heavy spring rains to winter snow accumulations – pumping systems must continue to operate to deliver water and remove wastewater and stormwater runoff. Electrical lines can go down and communication systems might be interrupted, yet water systems must continue to perform for homeowners, communities and businesses. This has never been more evident than in today's unpredictable weather environment.
What can pump installers, owners and operators do to mitigate downtime or disruptions caused by weather events, changing water levels and more? The solution often comes down to preparations that start long before a pump is installed and extend to having the right backups and maintenance plan in place for whatever occurs over the life of the system. With some critical upfront planning, pump operators in the residential, commercial and municipal sectors can minimize the effects of the most common weather crisis: heavy water runoff due to excessive rain or snowmelt.
As featureed in Water and Waste Digest's Article "Weather the Weather" learn actions you need to take to ensure your pump is prepped and ready for the next serious weather event as detialed by Franklin Electric pump experts Tom Miller and Jeff Wilder.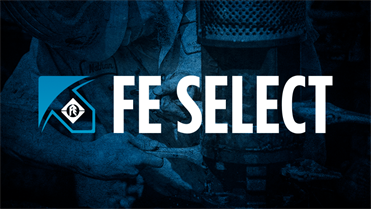 Pioneer Pump®, a Franklin Electric brand,
is continually looking for ways to provide easier and more convenient tools, knowledge, and resources necessary for your success.
To better serve you and your business, we are pleased to announce the launch of FE Select, Franklin Electric's primary pump selection software for distributors and contractors.
This online tool walks users through the process from start to finish, requiring only the basic application data, such as flow and total dynamic head demands, to size many water systems. The software properly matches the components necessary for the desired application and then offers links to related information and product documentation. 
FE Select offers the following features to users:
24/7 accessibility to sizing and selecting Pioneer Pump products and additional Franklin Electric product series
Product selection based on listings or application criteria
Multi-speed pump and motor performance curves including synchronous and variable speed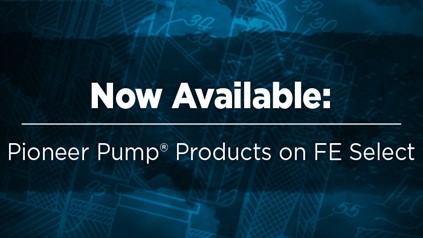 How to get started with FE Select:
New features and services will continue to launch on FE Select for Pioneer Pump products in the future, including configuring and pricing. Alongside FE Select, Pump-Flo will continue to be available to users for the next six months. However, we encourage you to start using FE Select now and take full advantage of the new features and extended capabilities it offers!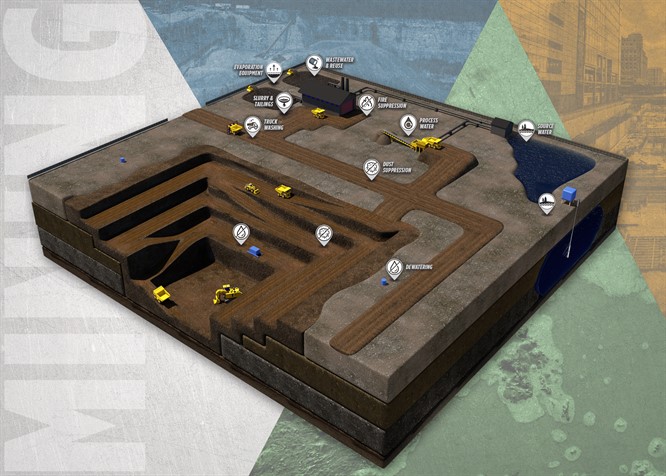 In the mining industry, pump efficiency and reliability are essential for profitable operations. With so many application needs – including general dewatering, slurry and tailings removal, source and process water, truck washing, and dust suppression – how can you maximize your pumps' performance? While most of the mining industry relies on diesel-driven pump packages, portable electric-driven pumps are emerging as another popular choice – one that offers application versatility, as well as performance and return on investment (ROI) benefits compared to diesel. 
Read our recent article in Pumps & Systems Magazine to learn the differences between electric and disel-driven pump packages - and how to use each to optimize performance in mining applications.