Latest News
The importance of the impeller in handling animal byproducts.
Jeff Burch, Hutcheson Engineering and Adam Schantz, Franklin Electric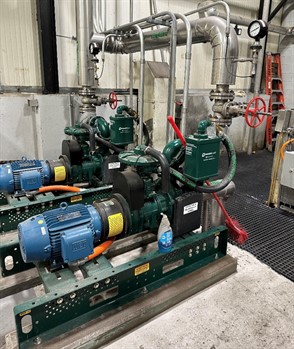 Reducing downtime on the production floor of rendering facilities is not just critical—it can be the difference between generating significant daily revenue or losing it. Wasted product, lost labor expenses and reduced production all add up. Whether a user's operations process agricultural products or render animals, their pumping equipment needs to stand up to some specific, and often brutal, challenges. If the pumping systems supporting a main chain production line are causing downtime issues, it can be catastrophic. What is the solution to handling harsh byproducts and waste? What should users look for when comparing a trash or chopper pump to a pump with a recessed impeller design?
This article takes a closer look at solids handling from the point-of-view of the animal-processing side of the food industry, outlining some important questions owners should consider to help avoid unplanned equipment outages and expensive downtime.
How Well can the Pump Handle Solid Animal Byproducts?
Pumping systems in food production operations need to eliminate a host of unforgiving and large solids like bones, hooves, nails and hair from a harvest floor. If a pumping system goes down, even if it is only for an hour, issues may develop on the harvest floor that stop the harvest chain, resulting in thousands of dollars in revenue being lost almost immediately. If these solids can pass through without contact, the pump keeps the chain moving. The pump's impeller design can play a large role in this reliability. A recessed impeller design combines the efficiency characteristics of a self-priming pump with the solids handling capabilities of a chopper pump. This makes it ideal for applications that need to pass solids while also handling flows to meet the application's high total dynamic head (TDH) and gallons per minute (gpm) requirements. Recessed impellers ensure only about 15% of the solids that pass through the pump come in contact with the impeller. Combining this impeller design with a vacuum-assisted priming chamber allows the pump to move both solids and fluids efficiently.
How Well can the Pump Handle Acid or Harsh Liquid Waste?
Speaking of fluids, depending on the type of product a facility is processing, the waste generated can include not only solids, but harsh debris that is acidic, abrasive and aggressive. Consider the overall components used in the pump and their ability to withstand acidic liquids on a regular basis. Will they stand up to the abuse, and are they easy to maintain? When evaluating the durability of a pump for the production floor and rendering pits, consider all the internal and external parts and the extreme conditions they will see.
Does the pump use a ball check valve to avoid clogging from passed-through solids? Does it utilize a flapper check valve that will not handle abrasive debris without extreme wear and repair needs?
Is there a need to consistently replace rotating assemblies on installed pumps to maintain the desired level of performance?
Does the pump include wear plates and chopper blades that will need to be monitored, adjusted and replaced?
Are there cutters in the pump that need to be sharpened or wear plates that need to be maintained? 
Are there internal wetted parts that require maintenance to extend the life expectancy of the pump?
Overall, the goal is to look at how the system not only performs day to day, but also how it is engineered. Will it save users time and money long-term or cost them in lost production?
What Type of Priming System is Facilitating the Pump's Operation?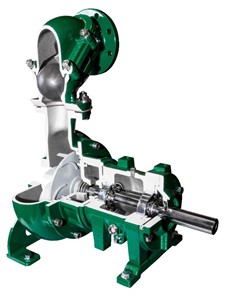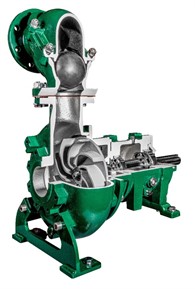 A pump with a vacuum-assisted priming chamber is designed for continuous operation. Like a self-priming pump, a vacuum-assisted priming system allows the pump to prime on its own and reprime if prime is ever lost. A vacuum priming system eliminates the need for initial fill of the case, and the internal valve system eliminates carryover and exposure to pumpage. It also stops the pump from running dry, avoiding premature seal and rotating assembly failure. This priming system cuts the time to prime by 40% and reduces the seal and bearing failures on the rotating assemblies common to trash pumps. It is designed for continuous operation and eliminates the need for water lines running to the pump.
These pumps also offer some unique benefits that help production floor operations run more smoothly overall. When using a pump with a vacuum-assisted self-primer, there is no need to run an additional water line to the supply pump casing before starting the system. This step is eliminated, and the pump will still prime. In addition, a vacuum-assisted priming system provides additional capabilities to overcome pinhole leaks, blockages and more on the suction line, overcoming other maintenance concerns.
Capital Expenditures vs. Operational Expenditures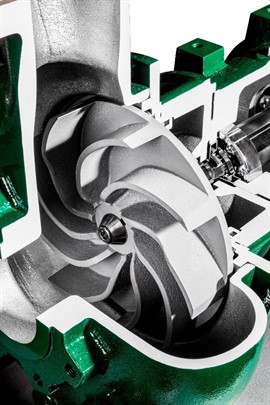 One final consideration is the cost of the pump itself. While the capital expenditure of a recessed impeller pump may be more initially than a trash pump, it offers high performance and long life that reduces maintenance and operating costs. For example, consider a hog facility that experienced issues with a trash pump that caused main chain issues and resulted in a shutdown for maintenance. The downtime equated to nearly two hundred thousand dollars in lost production an hour. After a few hours of downtime, their second shift labor had to be sent home. Product had to be scrapped. At the end of the day, they lost over a million dollars.
Some producers keep additional inventory of trash pumps on-hand, allowing for a swap out if any issues arise with a current pump. The cost of this inventory overhead and management also adds up. With a reliable, high-performing pump that is built to withstand the demands of solid waste, harsh liquids and more, no extra inventory is needed.
Not all pumping systems can handle the brutal conditions that exist in a food processing facility. That is why it is critical to evaluate a pumping system based on how it is designed and what it is engineered to handle. Looking at the pump's impeller design, priming system, overall construction and durability of components can make the difference between costly shutdowns and continuous, reliable operation.
Adam Schantz & Bret Tregarthen, Franklin Electric 
If someone is tasked with getting more done in less time, they are not alone. This is especially true for engineers specifying a pumping system. Specifying pumping systems has become more complex with more options, unique application requirements and increased optimization needs. For engineers, that means the demands of finding the best solution for the application have become more challenging.  
With many new and changing variables to consider, how can a user be sure they are designing the most optimized pumping system for their needs? That is where online selection tools, driven by advanced technology, can help. These tools have evolved over the years to include more robust information while helping tostreamline the selection process. They not only do the critical calculations needed to optimize a system, but also show options that may have otherwise been overlooked. If anyone has ever wondered how these online tools work—and how they can work for user needs—consider these key features: 
Streamline the Selection Process 
With so many pumping system options, it can be hard to pinpoint the solution that will work best for a project. This is where online tools provide benefits. The key is finding the online resource that works for user needs and factors in the application inputs and performance requirements. Only then will a user benefit from a truly streamlined selection process.  
When considering an online selection tool, look for one that is designed for ease of use, yet still allows the ability to inputparameters for customization. A digital tool should factor inproject-specific performance requirements or specs, such as water flow and head requirements, as well as voltage and other electrical considerations. The best tools will allow users to input both simple and advanced parameters while reducing time-consuming manual calculations and data searches.  
In fact, online tools can combine all application parameters into fast results. This can include the recommended systemcomponents, a complete price quote and important accompanying documents:performance curves, dimensional drawings and detailed specifications of components. This allows a userto presenta complete system solution. 
Find the Best Pump for the Job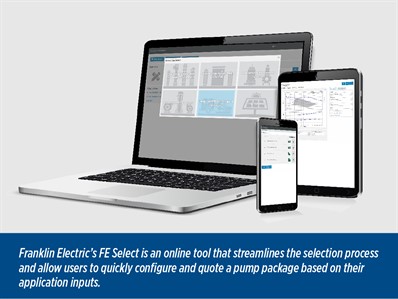 When using an online sizing and selection tool, a user will likely be able to conduct either a basic search that requires only primary application data (such as flow and total dynamic head requirements) or a more advanced selection that considers some additional variables forthesituation. For example: does the system need to be mobile or permanent? How far is the closest water source? Are there multiple duty points? Questions like these can factor intothe search and help the tool recommend a pump that best operates in the conditions theproject demands. 
More advanced selection tools can also allow users to filter or narrow down their selection based on the parameters that are most important to the user: suction/discharge size, power requirements, net positive suction head (NPSH), desired speed of operation, number of stages, bowl diameter, power rating and other relevant factors such as impeller trim selection and energy output.  
Get Critical Performance Curves & Technical Specs for Confident Decision Making 
Performance curves are critical to any pump specification, and advanced online selection tools can generate pump and motor performance curves containing both fixed and variable speeds. When evaluating an online tool, look for one that offers assisted selection and a comprehensive visual representation that helps avoid near-misses based on hydraulic considerations.  
The best online tools include performance curves for single or multipump systems where pumps are working in parallel configurations.They also provide hydraulic load data at various duty points on the curve with ease. This could identifyif theselection meets the required demand on technically challenging systems with varying water levels.More advanced software includes a feature that can assist professionals in ensuring their pumping selection will be non-overloading throughout the curve. If a userwants to evaluate how theirpump performs under more demanding parameters, they can instantly see how this will affect performance.  
Expand Your Knowledge: Get Options You Might Not Have Considered 
As pumping system technologies become more advanced, keeping up with new product innovations can be challenging. The pumping systems used in the past may not always be the best solution going forward. Online tools can present all options in one place–the known and the new. Userscan design a complete system beyond the pump, including drivers and controlsandconvenient switching devices (including pressure transducers and sensors).  
For example, advancements and evolutions in submersible and surface pumping systems have broadened the application potential for these systems. An online tool can help a user see the performance difference offered between a submersible and surface pumping system, so users can better evaluate options. 
If expanding into more specialized or customized solutions that may be new, online tools can help shorten the learning curve and provide more confidence in the opportunities available. Solar is a good example. Some online resources provide solar-specific tools that present total package options, including return on investment, peak run time and projected run time based on regional irradiation hours. These are ready to present to end users and help answer critical questions.  
Better Project Management  
Online sizing and selection tools allow usersto save, access and store critical details all in one place. They can build a project, save it and add to it later if needed. This allows a user to build a budgetary baseline for the pumping system if needed during the initial stages of project planning. Easy-to-access knowledge like this can give users a foundation for determining the total project cost to present. 
If working in a team environment, prepare specificationsonline and share the documentation with internal and manufacturer partners for easier collaboration, input and revisions. When revisions or tweaks are needed, it is easy to do within a saved project.  
When it is time to present a written specification, the quoting package can include full submittal documentation that can be generated and saved for the future. This includes every aspect of NPSH, dimensional drawings, weights, electrical specifications and owner's manual. Every aspect of a pumping system can be listed in a comprehensive format. 
If timing and delivery are important, some of these tools can show estimated lead times. This saves engineers a phone call to a manufacturer or distributor and can help with more accurate planning and timeline management.  
As technology in the field evolves, so does the technology that helps select a pumping system. Online tools and resources can help streamline the selection process and provide engineers with the tools needed to quickly present options.While online tools may not guarantee a system's life expectancy, they can instill confidence that the most efficient option has been selected within the pump's recommended operating range. 
Adam Schantz is a business unit sales manager at Franklin Electric and can be reached at ASchantz@fele.com

Bret Tregarthen is a territory manager at Franklin Electric and can be reached at Bret.Tregarthen@fele.com

 
Pioneer Pump®, a brand of Franklin Electric, announces the introduction of the ElectricPAK™ VFD, a rugged, packaged variable frequency drive (VFD) solution designed to withstand the demands of mobile dewatering applications. The platform is engineered to deliver a more intuitive operation experience via a new touchscreen interface, known as SmartPrime™.
The VFD uses Franklin Electric's proven experience with electronics as the foundation of the new offering. The VFD platform will be available in two portable packages. The ElectricPAK VFD can be mounted to the pump skid to simplify transport and ensure that pump, motor and VFD are always ready to set up and go on the jobsite. Or the VFD can be mounted in its own standalone skid for maximum setup versatility and use with different pumping systems. The standalone skid features a metal cage design that keeps the VFD protected and secure during transport while providing extra protection against jobsite hazards.
The drive's SmartPrime control interface features an industry-leading user experience that's as intuitive to use as a mobile app. Users can handle all aspects of operation from a streamlined central hub with easy-to-navigate graphics. SmartPrime creates a fast startup and simple monitoring experience, eliminating the need for complex keypad setup, advanced programming skills and specialized training.
"Our goal was to optimize motor control for electric-driven surface pumps, even when they're being moved and re-staged constantly," said Mario DeSimone, Pioneer Pump Product Manager. "The system's new SmartPrime control interface has been built and configured specifically for temporary pumping installations. There's no programming learning curve for new VFD users who are accustomed to working with diesel-driven packages. Plus, the entire system delivers optimized performance and durability to withstand tough field conditions as well as transport."
To learn more about Pioneer Pump ElectricPAK VFD or to start configuring your package on FE Select, visit our product page or contact your Franklin Electric representative.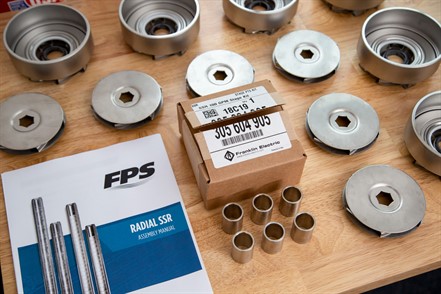 Nothing strikes fear in the hearts of a pump system owner quite like the thought of an unexpected shutdown,and for good reason. Downtime is lost revenue. If you're not up and running, you're not producing, your team is idle and you're losing time and progress. Pump failures can cause a snowball effect of issues for an operation – and determining the root cause of the problem becomes mission-critical.  
There's never an opportune time for a part to fail, but there are steps you can take to make the repair process easier and faster. Consider these tips to help you plan ahead. With a little work now, you can recover from system emergencies and unexpected shutdownsfaster – and possibly avoid failures in the future. 
As featured in Pumps & Systems magazine article When Downtime is Unavoidable, Keep It to a Minimum, learn how to overcome any emergency repair situation with manufacturers recommendations from Franklin Electric's Aftermarket Inside Sales Manager Jennifer Newsome.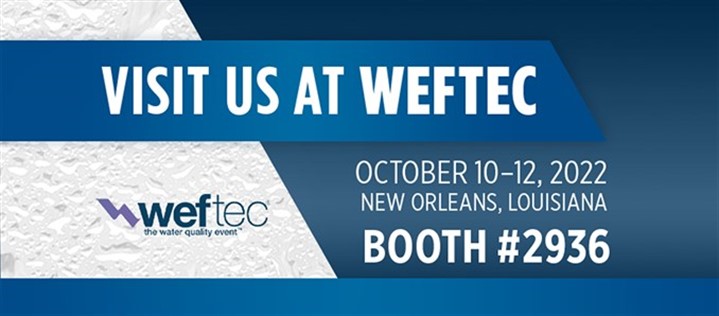 Franklin Electric is excited to reconnect with industry professionals at the upcoming WEFTEC trade show. Join us in booth #2936 to explore our latest water system solutions designed to overcome tomorrow's biggest challenges — and to learn more about our product offering, including:
Surface Pumping Systems: Leading-edge hydraulic engineering makes Pioneer Pump® centrifugal pumps the highest performing pumps on the market. Our brand-new Pioneer ElectricPAK will be in our booth with experts onsite to discuss how this electric-driven package is engineered from the ground up to offer a fully streamlined experience for owners and operators.
Wastewater Pumping Systems: Franklin Electric's FPS brand offers a range of submersible wastewater pumps and packages that are engineered for performance and offer a reliable solution for municipal and industrial wastewater applications. Visit our booth to see our IGP Series grinder pump in action with live demos daily.
Pressure Boosting Systems: Selecting the right system for your application is critical—and determining what will deliver the "right" balance of benefits for a user's needs often goes beyond common specs like flow rate and discharge pressure. Our on-site experts are ready to help you size, select and configure the right pressure boosting system for your application.
Vertical Pumping Systems: Ready to maximize the efficiency of your pumping operations? Learn more about our latest high efficiency water system solutions powered by permanent magnet motor technology. Our booth will also feature a selection of cast iron and stainless submersible turbines, alongside our extensive offering of vertical lineshaft turbines that help you cover almost any pumping application.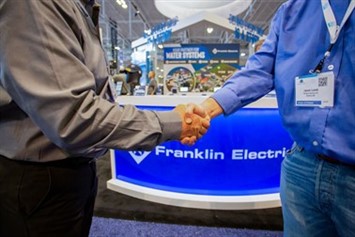 Franklin Electric's Discount Code: 
If you're a water or wastewater professional, we want to see you at WEFTEC! Our customers are eligible to receive complimentary expo-only passes by using code EXGU10478 when checking out on the WEFTEC registration page.
To meet with us in the booth, please contact your Franklin Electric representative. See you in New Orleans!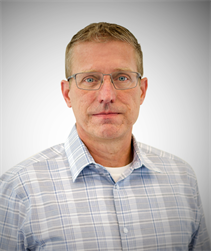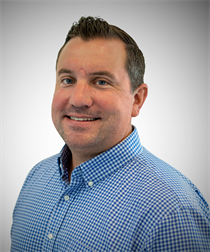 Franklin Electric is pleased to welcome two new team members to its growing Industrial & Engineered Systems business unit. Matt Murray joins the company as Senior Business Unit Manager for Industrial Distribution and Mike Smith joins as Senior Business Unit Manager for Fleet.
In their new roles, Murray and Smith will set the strategic vision for their segments, leading all commercial activities and supporting the needs and growth of Franklin Electric's customers.
Murray has been involved in the pumping industry since 2007, having spent considerable time working with paper and pulp manufacturers on industrial process needs and improvements. Smith is a managerial professional with over 30 years of experience in the engineered rotating equipment industry. He has worked within the engineering, sales and operations sides of the business and has managed teams across a variety of projects and markets.
"Both Mike and Matt bring strategic experience, leadership skills and a collective passion for helping our customers drive business growth," said Travis Bradley, Senior Business Unit Director of Industrial & Engineered Systems. "Their market knowledge and extensive experience in our industry will be invaluable to us and to our customers."
Franklin Electric is pleased to welcome Kyle
Carron to its Industrial & Engineered Systems business unit. In his new role as business unit sales manager, Kyle will be responsible for developing new fleet rental accounts and managing existing key customer relationships.
Carron brings eight years of experience working in the pump and rental industries to Franklin Electric. In his previous position as fluid solutions outside sales rep for United Rentals, he worked to size, rent and source equipment related to all aspects of water storage and transfer needs, including pumps, hoses, pipes, fittings and filtration devices. He also partnered directly with the largest accounts in the Colorado and Wyoming territory to ensure continued and successful business relationships.
"Kyle's experience will be a tremendous asset to our customers. He truly understands the rental and fleet markets from all sides of the business, bringing an important point-of-view to our team. We're looking forward to working alongside him to execute our group's strategic initiatives," said Travis Bradley, senior business unit director of Industrial & Engineered Systems.
Carron is a veteran of the U.S. Marine Corps, having served multiple tours in Afghanistan during Operation Enduring Freedom. He is also completing the Project Management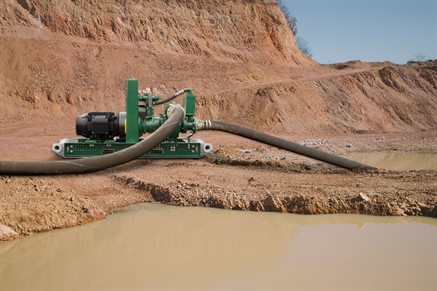 Pump packages that are used for dewatering and bypass purposes often take a beating, from operation to transportation to a jobsite in the first place. At a time when labor costs are on the rise and raw materials are scare, durability and low maintenance operation have never been more important. Just as important is ensuring the pumps and motors operate at optimum efficiency. These factors have raised concerns over pump vibration and the resulting problems it can cause. 
As featured in Pumps & Systems magazine article Why Permanent Alignment Is Important in Electric-Driven Pump Packages, learn how a rigid motor stool design permanently aligns the pump and motor, offering cost and time savings from Franklin Electric Global Product Management Director RJ Gates, Business Development Manger Toby Wilson and Marketing Strategist Melissa Wright. 
In any industrial processing situation, a dependable pumping system that is designed around a facility's unique application needs is essential for optimum productivity. Pumps are an integral part of any facility's overall performance and output; reliability, low maintenance and steady operation are crucial. At a time when labor costs are on the rise and raw materials are scarce, these factors have never been more important. Just as important is assuring that the pumps and motors operate at optimum efficiency. These needs are driving electric packages towards a growing trend in manufacturing: modularization.
As featured in Processing Magazine's article Alleviating Supply Challenges: The Benefits of Modular Design in Electric Pump Packages, learn how the modularization of electric pump packages can streamline how industrial processing facilities select and procure pumping systems from Franklin Electric Global Product Management Director RJ Gates and Marketing Strategist Melissa Wright.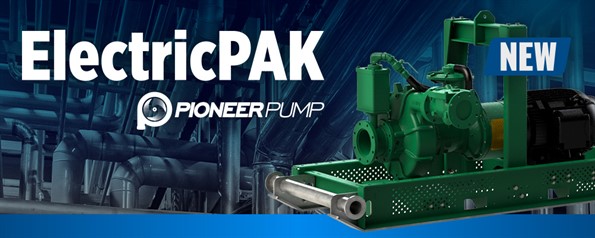 Pioneer Pump® a brand of Franklin Electric, announces the launch of the ElectricPAK™, a modular offering of electric-driven pump packages that helps users get a pump and motor configuration onsite more quickly and efficiently than custom-built units.
The new line of pump packages has been engineered from the ground up to offer a fully streamlined experience for both owners and operators. Each configured assembly includes a high-performance pump and electric motor that provides better flow, higher head and greater efficiency. The robust design also features a rigid, motor stool that keeps the pump and motor permanently aligned. This unique feature eliminates the need for time-consuming alignment work or special tools upon delivery or when the unit is moved. This modular system can also be disassembled quickly and simply, for reduced service and maintenance hours.
The ElectricPAK's modular system, combined with an extensive range of motor choices, allows users to select the most efficient pump based on the duty point. Users can also choose from a stationary base or drag skid. Helping them make their selection is Franklin Electric's proprietary FE Select online specification tool. It allows users to configure and quote a complete ElectricPAK that meets their application needs, anytime and from any web-enabled device. With 24/7 online and mobile-friendly availability, FE Select instantly helps formalize deliverables with printable and downloadable quotes: no waiting for a callback.
To learn more about Pioneer Pump ElectricPAK or to start configuring your package on FE Select, visit our product page or contact your Franklin Electric representative.