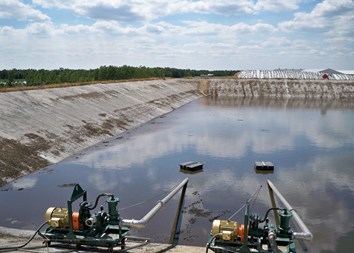 Agriculture
Growing seasons are short. You must get the most out of every day if you are to raise a bountiful harvest. During these few months, irrigation and manure slurry are especially critical to success. Failed water pumps can mean failed crops. So you need a solution that is beyond reliable. You need a Pioneer water pump.

From irrigation to manure slurry to aquaculture and crop harvesting, our centrifugal water pumps are built tough to handle the demands of the agriculture industry.
Extreme performance with low NPSHr
Heavy-duty, high-efficiency water pumps with large impeller eye areas provide extreme performance and some of the lowest net positive suction head requirements in the industry.
Superior materials for longer life
Stainless steel impellers don't wear under the abrasive and corrosive effects of manure slurry. Heavy-duty ductile iron construction ensures a long water pump life.
Run-dry capability
Our standard indefinite run-dry tungsten vs. silicon carbide mechanical seal with large oil reservoir is ideal for applications such as linear irrigation.
World-class service and support
Our global network of distributors and knowledgeable customer service staff are available virtually around the clock to help you stay up and running. Plus, we stock a huge inventory of parts, so most orders ship the same day for next-day delivery.
| | | | |
| --- | --- | --- | --- |
| Pump Series | Head Range | Flow Range | Size Range |
| Pioneer Prime | Up to 700 feet / 210 meters | 20—44,000 USgpm / 4—10000 m3/h | 1.5—30 in / 40—760 mm |
| Standard Centrifugal | Up to 700 feet / 210 meters | 20—44,000 USgpm / 4—10000 m3/h | 1.5—30 in / 40—760 mm |
| Wet Prime | Up to 200 feet / 60 meters | 20—3,500 USgpm / 4—795 m3/h | 1.5—10 in / 40—250 mm |