Now Available: Pioneer Pump HWR Series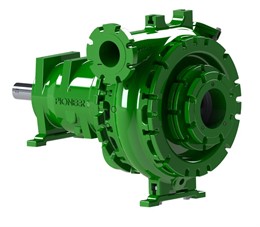 Pioneer Pump® HWR Series Wear-Resistant Pumps provide resilience against abrasive materials to maintain peak performance longer in demanding light slurry, manure, fly ash, and mining applications. Available in maximum flows of 4875 gpm at a maximum head of 625 feet, it passes solids up to three inches in diameter and offers longer maintenance cycles and lower overall cost of ownership via its rugged design.  
The Rugged, Flexible & Profitable Option
Durable Materials of Construction: Manufactured with high-chrome white iron to maximize wear resistance against destructive abrasives.  
Added Peace of Mind: Oversized bearing shafts and cassette seals and thick casting walls resist unnecessary wear to allow for maximum pumping uptime. 
Simplified Serviceability: Axial-style wear ring design allows for external adjustment, eliminating downtime associated with removing or replacing liners. 
Continuous Pumping: Engineered to provide continuous operation for agitating liquid manure, which is more profitable than skimming.
Application Flexibility: Available in packaged configurations designed and assembled by Franklin Electric to offer various priming, hybrid, and other mechanical options to meet nearly any application need.