Latest News
Working in partnership with Pump Supplies, Pioneer Pump has mobilised two of its high head and high flow 150CX fleet pumpsets to assist Welsh Water with a raw water pumping station in Pembrokeshire, United Kingdom.
Powered by a Volvo 16 litres engine, each 150CX is capable of 550 m3/h at 160 metres head. No other pump company was able to offer a solution for the expected duty in the fast response time frame required.
Jeff Keating, regional sales manager, received the first enquiry at 5pm and with the support of our dedicated team of engineers, they mobilised, installed and commissioned the two pumpsets in less than 24 hours. A fantastic result for the team and a success for Welsh Water.
With more than 300 ready-to-hire pumps and thanks to its continuous investment programme, Pioneer Pump is bolstering its presence in the market with brand new and reliable pumpsets, ideal for emergency response.
To find our more about our products, give us a call at 0800 707 6011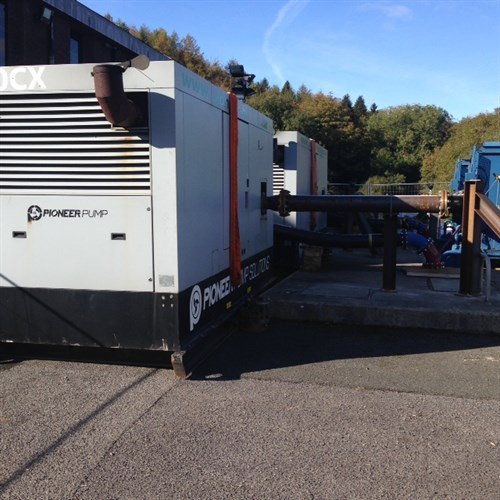 With over 18,000 industry visitors from across the quarrying, construction and recycling sectors, Hillhead proved once again to be the major event of its kind in the world!
Exhibiting at Hillhead since 2005, Pioneer Sales and Rental team didn't miss out on the opportunity to showcase the brand new range of Hydraulic Submersible pumps to the quarry and mining market.
The new fully bunded, sound attenuated HYPP30 Hydraulic Powerpack, together with the new 150HSS, the 100HSS and the smaller 80HSD submersible pumps, are now available to hire and buy.
Commercial Sales Director, Paul Skippins commented on the new range: "Our new submersible pumps are specifically designed for those applications where suction lift is greater than 8.5 m, making them the preferred choice for quarry dewatering, sludge and slurry transfer."
Exclusively revealed at Hillhead, Pioneer also introduced the brand new 150 Hydredge, which has already generated numerous enquiries from customers and visitors.
Paul Skippins continues, "The absolute star of the show has been our new Pioneer 150 Hydredge, incorporating a 6" screw type pump and a single rotor agitator unit. The 150 Hydredge can be operated using a single HYPP30 powerpack and Hydredge control panel. The controller give the operator flexibility to choose between pumping and agitating, which ensures efficient pumping".
Along with the new range, were also the well proven popular 100SH and 150SH high pressure pumpset, reaching up tp 110 m head and 1,150 m3/h flow. Also on show was the new compact 80CL clear liquid pumpset. Now featuring a smaller, compact, sound attenuated package and Perkins 404-22T engine, the 80CL delivers value for money and reduced fuel burn.
Sara Pitonzo, Sales and Marketing coordinator added: "Thanks to everyone who braved the unstoppable rain and came to visit the stand to talk about our wide product range. We trust you enjoyed the show as much as we did and we hope to hear from you soon!"