Latest News
LOCATION
The Thames Valley, UK Quarry
CUSTOMER CHALLENGE
Pioneer Pump was recently approached by the Client, a Quarry Manager, to provide a dewatering scheme using Pioneer pumpsets. The products offered needed to be reliable, fuel efficient and include remote operation functionality, to manage the drainage lagoon's water levels.
The sensitive location of the quarry, given its proximity to an RAF base, meant any failure to keep the lagoon water levels down would attract Wild Fowl. On any other site this would be welcome, however, with Military Jets taking off on a regular basis, there was a real concern that there may well be an increased chance of a bird strike!
The quarry was also operating under a strict discharge licence and breeches of this could very easily occur, particularly during the storm weather events that are becoming more common.
METHOD
Working closely with the Regional Sales Team and Product Manager, the Client selected three 150SL and two 150SM pumpsets to cover all site applications. After consultation, Pioneer's engineering team designed a reverse float system that automatically switched off the pump's engines once the water level in the discharge Brook was at a high level.
At the customer site, the float switch control for multiple pumps was configured to suit the start/stop requirements of the application. The customer was given the ability to adjust the switching level of the lagoon to comply with the discharge license.
Lastly, the customer was given access to the telemetry control and monitoring system, which is fitted to all Pioneer fleet models. This gave the Client the capability to monitor and control the pumpsets via Pioneer's App, which was installed on all delegated stakeholders' smart phones. Training was also provided with the users on site. This software will notify the Client should the pump stop running at any time, 24/7; which due to the large site and spread of the pumpsets will prove invaluable.
RESULTS
The Quarry Manager for this project has already provided positive feedback: "I have already witnessed a significant improvement in reliability and this, coupled with higher flow rates I am getting from the Pioneer, super silent pumpsets, has led to the water level in the main lagoon dropping by over two metres and that is exactly what I was looking for!" He continued, "any potential discharge licence breeches will be a thing of the past now that the float system is operational.''
This bodes well for the future and offers the Client the on-going peace of mind that by partnering with Pioneer Pump, any potential issues concerning water management at the quarry have been alleviated in an efficient and sustainable way.
Our products are available to hire or buy. Contact us today!
For Sales: +44 (0) 1449 736777 sales@pioneerpump.co.uk
For Hire: +44 (0) 800 7076011 sales@pioneer-hire.co.uk
LOCATION 
UK Quarry
PROJECT TYPE/APPLICATION
250SH dewatering from the new sump on site.
The 250SH is a high head, solids handling, diesel drive, sound attenuated pumpset.
PRODUCT PERFORMANCE
The product is pumping approximately 720 meters and moved around 450m³h to reduce the flood level and keep up with the ongoing flow into the site.
METHOD
"With all quarries of this size, downtime is a huge expense. We have worked hard to make sure that the team at the quarry have as little disruption to their dig time as possible", says Matthew Guppy, Regional Sales Manager. "We have taken any worry about supply, delivery times, reliability, service, maintenance or that the pumps we supply are going to do what we say they will do. The customer just doesn't need to worry about it anymore."
RESULTS
The customer put an order in for the 250SH the week before Christmas of 2020. Pioneer had the order and delivered the next day. Order turned around and dewatering the site in 24 hours.
The site has said that since the pump was installed it is the first time in four years that they have been able to work the bottom level of the quarry through the first month of the year.
Pioneer has subsequently gained more work with this site and are essential to keeping the bottom levels of the quarry dry and workable. 
Our products are available to hire or buy. Contact us today!
For Sales: +44 (0) 1449 736777  sales@pioneerpump.co.uk
For Hire: +44 (0) 800 7076011 sales@pioneer-hire.co.uk
Well done Team Pioneer in gaining 100% in our recent Achilles UVDB Audit in addition to re-accreditation to our British Standard ISOs 9001, 14001 and 45001. You are assured of high standards when you choose Pioneer Pump!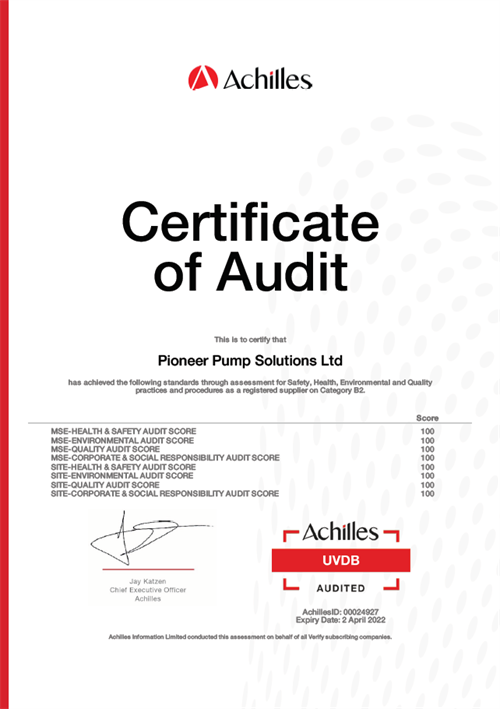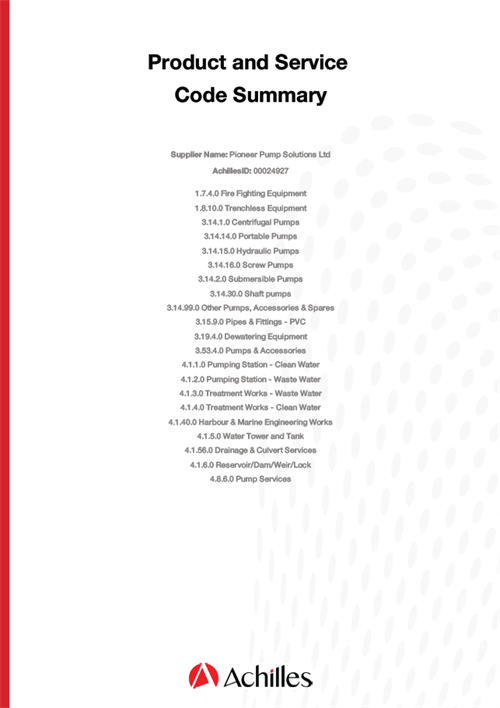 Introducing the new evolutionary line up from Pioneer Pump. 40+ new pump models all powered by the latest emission compliant Stage V diesel engines. The EVO sets range in pump size from 3" (80mm) to 30" (760mm), with flows up to 10,000 m3/hr and heads to 260m.
With the new Stage V emissions technology, it has never been more critical to ensure that pump hydraulic performance is closely matched with the power output of the engine. "For this very reason, our engineers have spent hours of diligent research and development on our new EVO range to ensure we deliver a proven, field tested, reliable product to our valued customers first time – every time" comments Adam Race, Engineering Manager at Pioneer Pump.
For some operators it will be the first time that diesel oxidation catalyst (DOC), diesel emission fluids (DEF) and diesel particulate filters (DPF) have had to be considered. "At Pioneer we have done our utmost to make the transition as smooth and reliable as possible, including extensive remote telemetry control and field monitoring features" says Toby Wilson, Product Manager at Pioneer Pump.
Matching engine and pump power requirements, Pioneer Pump ensure that the engine on board passive regeneration regime drastically reduces maintenance interventions and downtime.
Giving You Control
Pioneer's standard engine control module can be monitored remotely, and alarms set up to warn operators when services are due, or engine operating parameters are outside the preferred operating condition. This reduces downtime, assists with better service scheduling, and prevents engine regeneration cycles. "When selecting suitable engines for our EVO range, it was imperative that the engines had the widest operating range possible and were able to regulate their own load without having any impact on the important matter of pumping" comments Adam Race.
Paul Skippins, Commercial Director at Pioneer Pump states, "our pump sets have evolved over the past 20 years with changing technology and application driven demands. With the introduction of Stage V emissions our wide range of EVO pump sets continues this evolution; offering market leading pumping performance, serviceability, increased fuel economy, decreased noise and significantly reduced emissions."
With the introduction of the new engine choices, Pioneer Pump have taken the opportunity to add extra features to their packages, which includes their heavy-duty Pioneer Prime (PP) range of vacuum assisted self-priming pumps.
The Stage V range will be available to buy or hire. Visit the Stage V Landing Page or contact your local sales team for more information.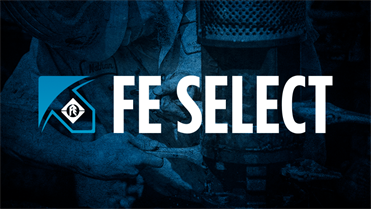 Pioneer Pump®, a Franklin Electric brand,
is continually looking for ways to provide easier and more convenient tools, knowledge, and resources necessary for your success.
To better serve you and your business, we are pleased to announce the launch of FE Select, Franklin Electric's primary pump selection software for distributors and contractors.
This online tool walks users through the process from start to finish, requiring only the basic application data, such as flow and total dynamic head demands, to size many water systems. The software properly matches the components necessary for the desired application and then offers links to related information and product documentation. 
FE Select offers the following features to users:
24/7 accessibility to sizing and selecting Pioneer Pump products and additional Franklin Electric product series
Product selection based on listings or application criteria
Multi-speed pump and motor performance curves including synchronous and variable speed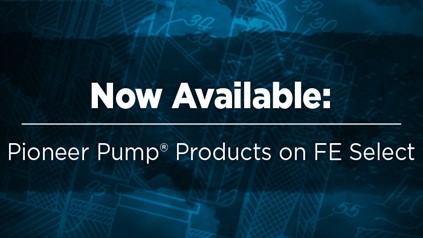 How to get started with FE Select:
New features and services will continue to launch on FE Select for Pioneer Pump products in the future, including configuring and pricing. Alongside FE Select, Pump-Flo will continue to be available to users for the next six months. However, we encourage you to start using FE Select now and take full advantage of the new features and extended capabilities it offers!
Vortex SeriesTM Pumps eliminate costly and disruptive downtime by passing through the most challenging solids using a recessed impeller. They are available in 4x4, 6x6, and 8x8 sizes and cover flow rates up to 3,600 gpm and heads up to 150 feet. 
See how the all new Vortex Series is pioneering the way to reduce disruptive downtime and maximize value.
Working in partnership with Pump Supplies, Pioneer Pump has mobilised two of its high head and high flow 150CX fleet pumpsets to assist Welsh Water with a raw water pumping station in Pembrokeshire, United Kingdom.
Powered by a Volvo 16 litres engine, each 150CX is capable of 550 m3/h at 160 metres head. No other pump company was able to offer a solution for the expected duty in the fast response time frame required.
Jeff Keating, regional sales manager, received the first enquiry at 5pm and with the support of our dedicated team of engineers, they mobilised, installed and commissioned the two pumpsets in less than 24 hours. A fantastic result for the team and a success for Welsh Water.
With more than 300 ready-to-hire pumps and thanks to its continuous investment programme, Pioneer Pump is bolstering its presence in the market with brand new and reliable pumpsets, ideal for emergency response.
To find our more about our products, give us a call at 0800 707 6011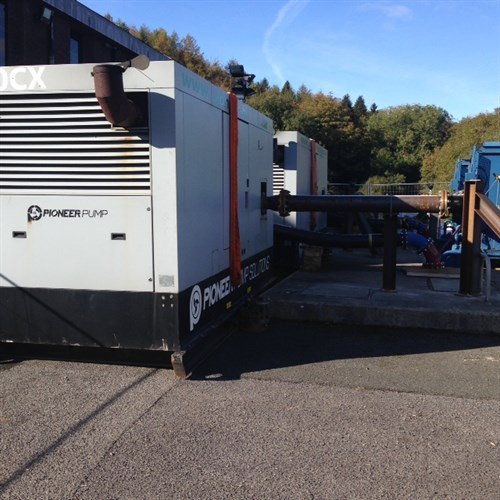 With over 18,000 industry visitors from across the quarrying, construction and recycling sectors, Hillhead proved once again to be the major event of its kind in the world!
Exhibiting at Hillhead since 2005, Pioneer Sales and Rental team didn't miss out on the opportunity to showcase the brand new range of Hydraulic Submersible pumps to the quarry and mining market.
The new fully bunded, sound attenuated HYPP30 Hydraulic Powerpack, together with the new 150HSS, the 100HSS and the smaller 80HSD submersible pumps, are now available to hire and buy.
Commercial Sales Director, Paul Skippins commented on the new range: "Our new submersible pumps are specifically designed for those applications where suction lift is greater than 8.5 m, making them the preferred choice for quarry dewatering, sludge and slurry transfer."
Exclusively revealed at Hillhead, Pioneer also introduced the brand new 150 Hydredge, which has already generated numerous enquiries from customers and visitors.
Paul Skippins continues, "The absolute star of the show has been our new Pioneer 150 Hydredge, incorporating a 6" screw type pump and a single rotor agitator unit. The 150 Hydredge can be operated using a single HYPP30 powerpack and Hydredge control panel. The controller give the operator flexibility to choose between pumping and agitating, which ensures efficient pumping".
Along with the new range, were also the well proven popular 100SH and 150SH high pressure pumpset, reaching up tp 110 m head and 1,150 m3/h flow. Also on show was the new compact 80CL clear liquid pumpset. Now featuring a smaller, compact, sound attenuated package and Perkins 404-22T engine, the 80CL delivers value for money and reduced fuel burn.
Sara Pitonzo, Sales and Marketing coordinator added: "Thanks to everyone who braved the unstoppable rain and came to visit the stand to talk about our wide product range. We trust you enjoyed the show as much as we did and we hope to hear from you soon!"