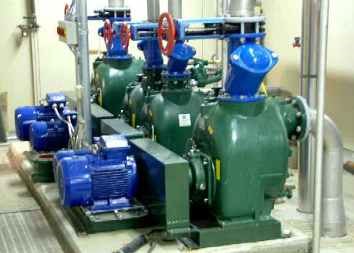 Trash Pumps for Municipal Applications
Your pumps are expected to keep up with the ever-increasing demands on your municipality. Keep your operations running smoothly with a trash pump that delivers extreme performance as well as the reliability you need.

Our comprehensive line includes centrifugal trash pumps for lift station, sewage treatment and water treatment applications.
Ideal for lift station duty
A trailer-mounted Pioneer pumpset with diesel engine meets EPA requirements for lift station backup. It's also more reliable and convenient than generator backup, which doesn't help if the problem is with the trash pump.
Consistent pressure, efficiently
Maintaining consistent water pressure of 40–60 psi, Pioneer trash pumps still perform efficiently, using less energy to do more work.
Extreme performance and continuous unattended priming / re-priming
Pioneer Prime offers high flow of up to 18,000US GPM (4000m3/hr) and heads to 700+ feet (210m) with vacuum-assisted dry priming and run-dry capability, providing the highest outputs of any company in the self-priming trash pump market. 
Environmentally friendly
Our superior PosiValve™ sealing and priming system runs dry indefinitely, and prevents leakage and carryover while offering unparalleled reliability.
Superior materials for longer life
Heavy-duty ductile iron body construction (with other metallurgies available) and stainless steel impellers ensure a long trash pump life.
Low NPSHr
Heavy-duty, high-efficiency pumps with large impeller eye areas provide some of the lowest NPSHr in the trash pump industry — whether it's solids or clear liquids handling.
| | | | |
| --- | --- | --- | --- |
| Pump Series | Head Range | Flow Range | Size Range |
| Vacuum-Assisted Priming | Up to 700 feet / 210 meters | 20–44,000 USgpm / 4–10000 m3/h | 1.5–30 in / 40—760 mm |
| Standard Centrifugal | Up to 700 feet / 210 meters | 20–44,000 USgpm / 4–10000 m3/h | 1.5–30 in / 40–760 mm |
| Self-Priming | Up to 200 feet / 60 meters | 20—3,500 USgpm / 4—795 m3/h | 1.5—10 in / 40—250 mm |