2019 WWETT: New Vortex Series Headlines Innovative Showcase
Franklin Electric will display multiple pumping innovations at the 2019 WWETT Show in Booth 1435, February 21-23. WWETT (Water & Wastewater Equipment, Treatment & Transport) is the largest annual U.S. trade show for wastewater and environmental service professionals, so once you're through the doors, you'll have visual access to some of the most innovative and proven products available today. Here are some of the featured innovations that will be in our booth.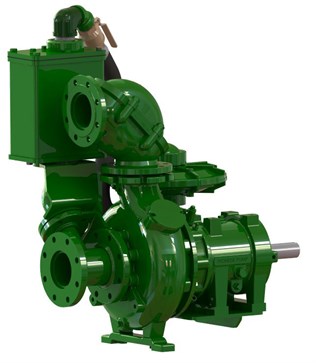 New Pioneer Pump® Vortex Series™ Pumps – They eliminate costly and disruptive downtime by passing through the most challenging solids using a recessed impeller. These pumps are ideally suited for waste handling, sludges, industrial effluent, chemical processing, and other applications where fluid conditioning, macerating, or mix-prevention are unnecessary. This is accomplished using vortex technology, which saves time and money in the most punishing applications by eliminating internal wetted parts, like wear plates and chopper blades that would otherwise have to be monitored, adjusted, and replaced. Heavy-duty cast iron casing construction, an oversized stainless-steel shaft, and a leak-proof run dry mechanical seal ensure maximum reliability and uptime. A comprehensive range of electric and diesel packaging options are offered for fixed and portable installations and can be fitted with the industry-leading Pioneer Prime vac-assist system for suction lift applications. Vortex Series Pumps are available in 4x4, 6x6, and 8x8 sizes and cover flow rates up to 3,600 gpm and heads up to 150 feet. The Vortex Series is pioneering the way to reducing disruptive downtime and maximizing value.
Pioneer Pump GS Series – A durable, cost-effective pumping solution for applications with high performance demands. These robust pumps are available in 3x3, 4x4, 6x6, 8x8, and 10x10 sizes, with maximum flow rates up to 3450 gpm, a maximum head of 175 feet, and solids handling capabilities of up to 3 inches. Offered assembled as part of a full pumping package or as a standalone pump, the GS Series provides industry consistency in parts interchangeability and pump footprint when compared to other manufacturer models, making it an ideal solution for most retrofit installations.
Pioneer Pump GT Series – A robust pumping solution for nearly any food processing, wastewater treatment, waste handling, chemical processing, or industrial application with high performance demands. Now available in 3x3 and 4x4 sizes in addition to the 6x6 sizes, this product family features a robust shaft design that permits maximum flow rates up to 2250 gpm at a maximum head of 250 feet with a solids handling capability of up to three inches. The case inlet diameter is uniquely designed to alleviate abrasive wear on the pump and a unique cover design combines both the fill and flapper valve access cover into one part to improve ease of use – making these pumps ideal for the toughest tasks, all within a standard footprint.
For more information on the 2019 WWETT Show, click here.