Now Available: Versatile GL1 Pump Package
The new Pioneer Pump® GL1 Pump Package is an ideal solution to move water in nearly any compact, yet rugged industrial, municipal, agricultural, mining, dewatering, or rental application. This robust, diesel-driven pump package features the PP43075 solids-handling pump which passes up to 1-5/8-inch solids and reaches a maximum flow of 540 gpm and a max head of 130 feet. The GL1 extends the GL Series towable diesel pump range down to 15 hp for smaller-scale applications.
Product Features: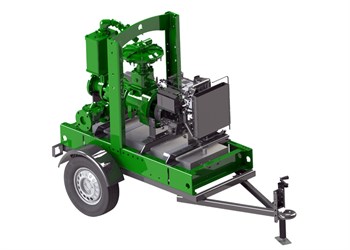 Compact size ideal for construction sites and other general dewatering needs
Fully modular base and mounting components for convenient service and maintenance
On-road towable trailer for easy mobility and transport between jobs
Environmentally safe vac-assist priming system with PosiValve™ evacuates air faster to accelerate and simplify priming
Indefinite run-dry mechanical seal for a more hands free and self-sustaining operation
Now including the GL1, the GL Series pump packages feature a full range of high-head and high-flow pumps up to 575 horsepower, are available in 4x3, 4x4, 5x3, 6x3, 6x4, 6x6, 8x6, 8x8, 10x8, 12x8, and 12x12 pump sizes, and offer both solids handling up to 3.5 inches and clear liquids capability. Engineered for modularity, the GL Series is available in skid or trailer configurations, fully Tier IV ready with the flexibility to offer multiple engine options, and comes standard with an indefinite run-dry mechanical seal. To provide the necessary characteristics for each application, the GL Series offers a variety of build options, such as: sound attenuation convertibility, different engine control panels, multiple trailer options, trickle charger, solar panel, and engine block heater.