Featured Innovations on Display at WEFTEC 2018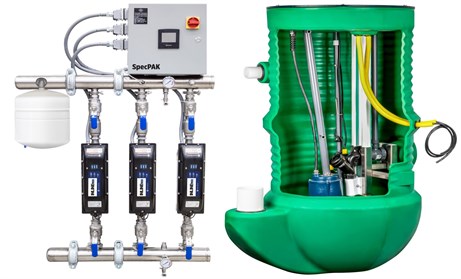 Come join us at WEFTEC 2018 in booth 7927 at the New Orleans Morial Convention Center in New Orleans, Louisiana, October 1-3. Franklin Electric is providing a complimentary registration in conjunction with the show to all current and potential customers so you can see the latest and greatest the industry has to offer, including the following featured products in our booth:
The Inline 1100 SpecPAK™ Pressure Boosting System connects easily to nearly any commercial, industrial, or multi-residential plumbing configuration to provide an easy-to-size water pressure boosting solution. Contractors simply determine how much water is required to be boosted to the desired constant pressure output, and the system comes properly packaged. The pump itself, the Franklin Electric Inline 1100, is a quiet, all-in-one constant water pressure system that contains the pump, motor, and drive in a compact package. As water volume needs increase, the pump instantly accelerates to the proper speed to ensure the water pressure stays constant throughout the application.
The FPS PowerSewer® System is a flexible, service friendly, and efficient system for residential and commercial applications. The basin's internal C-Channel assembly releases from the top of the unit, simplifying accessibility to and maintenance of its components. The updated tank design provides for easy access and replacement of all other internal components. The float tree is spring loaded and easily removable, with a lift handle to simplify pump removal. It features an isolated pump support that accommodates heavier pumps for expanded applications, and it is compatible with the entire line of Franklin Electric FPS 2 hp grinder pumps.
The Pioneer Pump® GT Series is a robust pumping solution for nearly any food processing, wastewater treatment, waste handling, chemical processing, or industrial application with high performance demands. Available in 3x3, 4x4, and 6x6 sizes, they feature a unique shaft design that permits maximum flow rates up to 2250 gpm at a maximum head of 250 feet with a solids handling capability of up to three inches. A unique suction spool increases the inlet diameter and alleviates abrasion wear on the pump, while its distinct cover combines both the fill access cover and flapper valve access cover in one to improve ease of use – making these pumps ideal for the toughest tasks, all within a standard footprint.
The Pioneer Pump® GL Series Pump Packages move large volumes of water in nearly any rugged industrial, municipal, agricultural, mining, dewatering, or rental application. These robust, diesel-driven pump packages feature a full range of high-head and high-flow pumps up to 575 horsepower, are available in 4x3, 4x4, 5x3, 6x3, 6x4, 6x6, 8x6, 8x8, 10x8, 12x8, and 12x12 pump sizes, and offer both solids handling up to 3.5 inches and clear liquids capability. All side panels down to the top of the skid are removable by hand without the need for additional tools, maximizing accessibility and serviceability. The patented, environmentally safe vac-assist priming system with PosiValveTM evacuates air faster to accelerate and simplify priming, while efficient tank sizes provide up to 30 hours of runtime at full load. Engineered for modularity, the GL Series is available in skid or trailer configurations with a variety of build options to fit each application, and is fully Tier IV ready with the flexibility to offer multiple engine options. 
Click here to sign up for our complementary registration and use promo code EVITE1311.
Click here for more information on WEFTEC 2018.