Mobile App Update: Pioneer Pump System Calculator Now Available From Google Play Store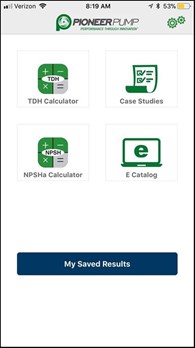 The Pioneer Pump® System Calculator is now available from the Google Play® Store, in addition to the Apple App Store®, by searching for "Pioneer Pump". Calculating system requirements has never been easier. The Pioneer Pump App allows users to enter the application details, flow rate, pipe type, size and length, etc. to determine total dynamic head, NPSHA, and losses. The app is easy to use onsite or remotely, saving the user time by selecting the right pump for the job based on actual conditions.
If you have questions concerning the Pioneer Pump System Calculator, please contact the Pioneer Pump Sales Team at 503.266.4115 or sales@pioneerpump.com.
Google Play is a trademark of Google LLC.
Apple and App Store are trademarks of Apple Inc.